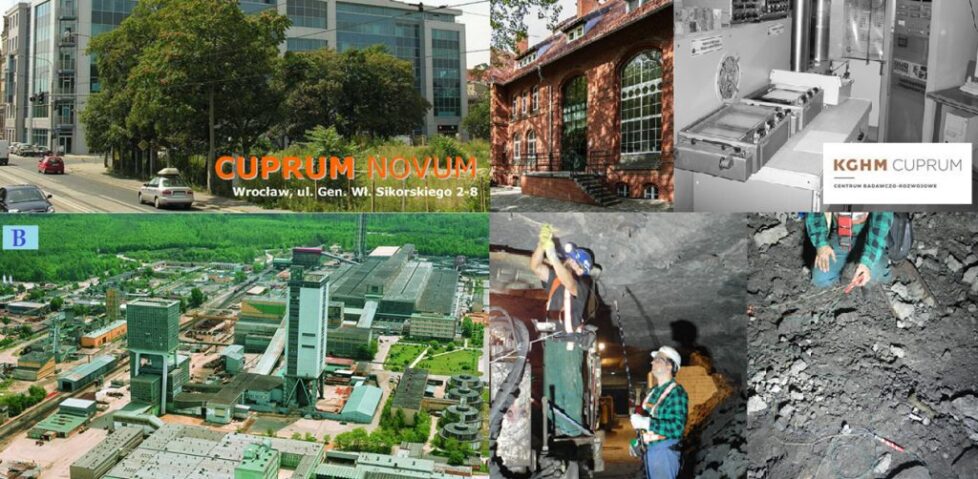 Conceptual Lab development co-ordinated by KGHM Cuprum R&D centre, Poland
Name of the facility, web page, ownership and contact person
Lubin/Wroclaw Trial Panel & Rock Mech Laboratory (TPRML), Poland http://www.cuprum.wroc.pl
KGHM Polska Miedż S.A. (KGHM) owns the TPRML.
Contact person is Jan Butra, Director of Research Affairs
Geographical location, size and depth of the facility
KGHM Polska Miedź S.A. comprises three of underground copper mines and metallurgic plants in west-southern Poland, close to the towns of Lubin and Polkowice. KGHM S.A. holding is a State Treasury owned company which also owns shares in 21 entities, operating in various production and service-related areas. One of them is KGHM Cuprum R&D, which among others plays a role of research and development centre for KGHM Polska Miedź S.A. The company has not underground laboratories in the classic sense. Instead of them, it has at a depth of 650-1300 m in its disposal hundreds of kilometres of existing excavations which are accessible and drive-able. Each excavation may serve, if necessary, as a temporary trial panel or underground laboratory. The excavations can be utilised for different purposes, e.g. for improvement of excavation, blasting or ground support technologies, best matching to the local mining and geological conditions. This is supplemented by a rock mechanics laboratory established as a part of KGHM CUPRUM surficial facilities in Wrocław.
Major rock type(s)
A productive level located at the depth from 900 to 1200 m is overlain by thick, good quality dolomite layer, which is followed upwards by rigid anhydrite strata of around 150 m of thickness. Above them, salt rock and more than 300 m of Motley fine grain sandstone are deposited. Below the copper-bearing ore, a thin layer of quartzite sandstones precedes some 300 m thick layer of hard Rotliegendes sandstones. In the geophysical analyses, an average rock mass compressive strength is about 140 MPa for the strata above the copper ore deposit, 50 MPa for the deposit layer and 30 MPa for the floor layer. The depth of the ore body, an ability to accumulate strain energy by both the upper layer of anhydrites and the lower sandstone layer as well as highly variable tectonic conditions constitute grounds for generating violent seismicity and rockbursts.
The original purpose, current use and future plans
The KGHM mines were constructed mainly for the copper ore excavation, processing and smelting. They are constantly under development for almost 60 years. In selected areas of existing mine workings, pilot/trial panels used to be furnished for research and development purposes.
Accessibility
The KGHM mines are located about 75 km NW from the capital of Lower Silesia – Wrocław with circa 650000 habitants, railway station, international airport, universities and other high education and research institutions. The A4 motorway and the interregional road S3 guarantee easy access to the mines. The nearest regional airport is located in Lubin.
Overall data availability
All data from KGHM's investigations and research activities are stored in KGHM's archives located at the appropriate departments in the mines and the main offices in the Lubin headquarters. The databases generally are not available for researchers unless they are authorised.
Specialised knowledge, services
Specialised knowledge exists in geology, hydrogeology, geochemistry, groundwater chemistry, geophysics, rock mechanics, rock engineering, clay materials and especially swelling clays etc. Scientific and technical experts available at the site or in networks. Organisation for guiding, planning and starting external projects including experimental services ranging from drilling, measurements to the construction of prototypes.